Coachella Music Festival
Over the course of our 5-year relationship, we created a technical infrastructure for Goldenvoice's flagship festival, that integrated touch-points on the web, mobile devices, and festival grounds via a custom API, allowing festival-goers, organizers, and sponsors to interact fluidly before, during, and after the festival. Additionally, we designed and developed many of the user-facing touch points, including the website, accounts portal, on-site registration kiosks, and custom features of the mobile application.
The Task
Streamline a fragmented digital experience for the country's most iconic music festival.
Brutal Simplicity
Of Thought
Target Insight
The festival experience begins when the lineup is released online.
+
Brand Insight
The better the fan experience, the smoother the operations.
=
Powerful Truth
Stay connected.
Website
Responsive web design allowed for seamless integration of the festival's tech touch-points — from the users' accounts, to the mobile app, and on the festival grounds.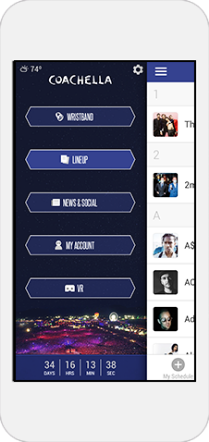 Year One
Overhauled content, experience, creative, and technology
Created Coachella's first responsive website
Integrated forum account system with festival planning features
Allowed users to activate wristbands through website
Webby Award Honoree
Year Two
Upgraded features and refreshed skin
Upgraded header animation to change based on time of day
Improved content management work flow
Diversified look and feel across touchpoints
Webby Award Honoree
Year Three
Implemented more cost effective digital solution across the Coachella & Stagecoach brands
Made website more responsive for mobile devices
Streamlined and prioritized content for users where possible
Launched new user account system with API for partner integration
Webby Award Honoree
Year Four
Refined within existing structure
Reskinned platform with ambitious new header animation
Updated page templates based on evolving needs of festival
Improved content management work flow
Created streamlined on-site activation solution
The Results
Connected web, mobile, and on-site touchpoints allowing users to manage their tickets seamlessly
Facilitated new sponsorship revenue driven by integration opportunities
Created a technical infrastructure that supports millions of hits and tens of thousands of users
New user design won Webby Award 3 years in a row
100%
Converted 100% of festival-goers to digital ticket registration system resulting in a significant reduction in customer service costs